You are here: Home | 307th BG Index | Fred Carter Crew
Traendly Crew by Stan Batten
Lost 1 August 1945 on their way back to Morotai from a mission over Makassar
Information and pictures on this page have been reprinted with permission from Stan Batten.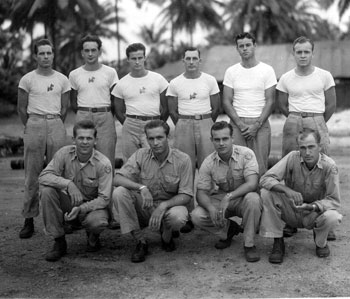 Traendly Crew
My Search Began
I had always wondered about my brother's service in WWII where he was lost when a B-24 went down in the South Pacific. So, when my wife found small note announcing the Southern California tour of a B-24 and B-17, she called the Collings Foundation and was advised to look at their web site for the schedule. We found the schedule, but we found more too. Click on the B-24 for more information - B-24 Veterans Group - Guest Book, WOW! My father was …, Does anybody know …, I flew in the …, Looking for …, etc. Reading the postings, I experienced a wide range of emotions. I scanned the messages including the archives back to 1996 and found many references to the 307 BG, my brother's unit, but one in particular caught my eye.
I was a teen-age POW in a Japanese concentration camp called KAMPILI the Japanese air-dromes of LIMBOENG and MANDAI near the capital City of MAKASSAR on the island of CELEBES. I kept a journal of all the bombardments of these air-dromes and Makassar itself and are looking for missions reports of these raids by the 307th and 5th Bomb groups(H) of the 13th air-force. I like to put names and possible faces to my story.

EVERT H. HEYNNEMAN quernico@aol.com
Sausalito, Ca USA - Thursday, July 10, 1997 at 11:08(CDT)
I knew from little scraps of information that my brother's plane was lost 1 August 1945 on their way back to Morotai from a mission over Makassar. Hopeful that he could tell me something about that raid, I contacted Evert. He did even more; he helped me get started in my search for information about my brother Eugene V. Batten. Much of what follows resulted from that first contact with Evert.
He first replied with the following entry in his journal:
"20 Liberators hit Japanese positions in and around Limboeng and Mandai (airdromes). In spite of heavy flak, the planes remained in perfect formation. What a sight! What heroes!! Targets left burning ….."
Then, after several back and forth e-mails and dead end leads, he sent me some pages from Sam Britt's book "The Long Rangers: A Diary of the 307th Bombardment Group(H)". I contacted Jim Kendall at Evert's suggestion and in addition to more pages from "The Long Rangers" I got the address of Sam Brett and from him, the Co-Pilot Erwin Eckstein who sent me pictures and a crew list. All of these contacts prompted me to join the 307th Bombardment Group Association.
Armed with a list of crew member's names, I searched the internet for possible contacts. Two name came up, Fred Taucher (Bombardier) and Joe Daly (Tail Gunner). One of the J. Dalys turned out to be a Pilot in the 372 not the tail gunner. But, I did make contact with Fred Taucher's widow. She sent some articles and a copy of the crew picture.
Following a request for information in the 307th Newsletter, I was contacted by Rev. Earle Creamer who served with Eugene at Gunnery School, Radio School and Crew School. Together, they traveled to Morotai by boat and met occasionally on that Island.
Later I made contact through the internet with Paul Daly, Joe Daly's grandson and John Bankus the grandson of Dempsey Bankus. Paul sent me a picture of Joe and Eugene and John led me to the PBY website where a description of August 2 rescue could be found.
Much later I found the brother of the Navigator Stehling Wahlen who was also lost on the 1 August 1945 flight. Dan Wahlen sent two letters that his family received from the Pilot, Eugene Traendly, and the Bombardier, Fred Taucher, describing events of that day.
This web page contains many of the documents I have collected about my brother.
Documents and Pictures:

On Morotai beach

At Morotai, Standing: Batten, Bankus, Dugan, Zimmerman, Daly, Front: McNamara

At Morotai, Standing: Zimmerman, Dugan, Daly, Front: Bankus, McNamara, Batten

Crew with Umbriago!, Front: S. Wahlen and F. Taucher, Standing: E. Batten, E. Eckstein, H. Dugan, W. Zimmerman,

Traendly Crew
Front: F. Taucher (B) Rock Springs, Wyoming; E. Traendly (P) Brooklyn, NY; E. Eckstein (CP) Cincinnati, Ohio; S. Whalen (N) Milwaukee, Wisconsin
Back: E. Batten (RO) Berkley, CA; W. Zimmerman (Nose) Claysville, Penn; D. Bankus (Ball) Milan, Missouri; Harry Dugan (E) State College, PA; Joe Daly (Tail) Los Angeles, CA; Jay McNamara(Top Turret) Salt Lake City, Utah

At Morotai, Batten on left, Daly on right

Eugene at Walla Walla Crew Training barracks.

World War II Honoree Picture

Believed to be the aircraft #44-49749 lost on 1 August 1945

Long Ranger Sign on Morotai

An aircraft flown by the Traendly crew
Please submit additioanl 307th Bomb Group information and pictures to: webmaster@missingaircrew.com
Information on this page supplied by:
Stan Batten
22678 Cass Ave
Woodland Hills, CA 91364

(818) 225-7163
esbatten@earthlink.net



Submit comments about this site
Follow the Missing Air Crew Project On:


PIN IT
Web Site Terms of Use: This web site authorizes you to view materials solely for your personal, non-commercial use. You may not sell or modify the material or reproduce, display, distribute, or otherwise use the material in any way for any public or commercial purpose without the written permission of the web site owner. pat@missingaircrew.com