August 2009 Update
In August 2009 we locate part of the Lt. Lillard F6F-5 wreckage in a dense mangrove. The wrecakge found has been identified as that of an F6F-5. Due to the locate of the wreckage it is VERY likely that it is from the Lillard F6F. We will continue searching the area in 2010 for the rest of the wreckage including the fusulage. More information and pictures can be viewed at: August 2009 F6F-5 Wreckage
Update Received from George Kernahan on October 17, 2007: As regards the attack on Yap in November 1944 I can tell you that TG38.4, after striking Luzon on the 19th, was ordered back to Ulithi. Before it arrived there on the 22nd a fighter sweep was launched against Yap, where Lillard was shot down. The carriers in the Task Group were Enterprise, Hornet, Monterey and San Jacinto.
The CVG20's action report for the 22 November mission states the following:
30 VF20 Hellcats, plus two VB20 Helldivers, took part in the attack, the purpose being to drop napalm on a bivouac area near the main runway. After completing the drop most of the fighters made strafing runs as there was little apparent AA fire. This may have led to some complacency, and Lillard's section was noted as leaving it's pullout rather late. Just then the enemy opened up and shot off his tail, causing his F6F to crash and explode at the east end of the runway.
Task Force 38.4 November 21-22 Report: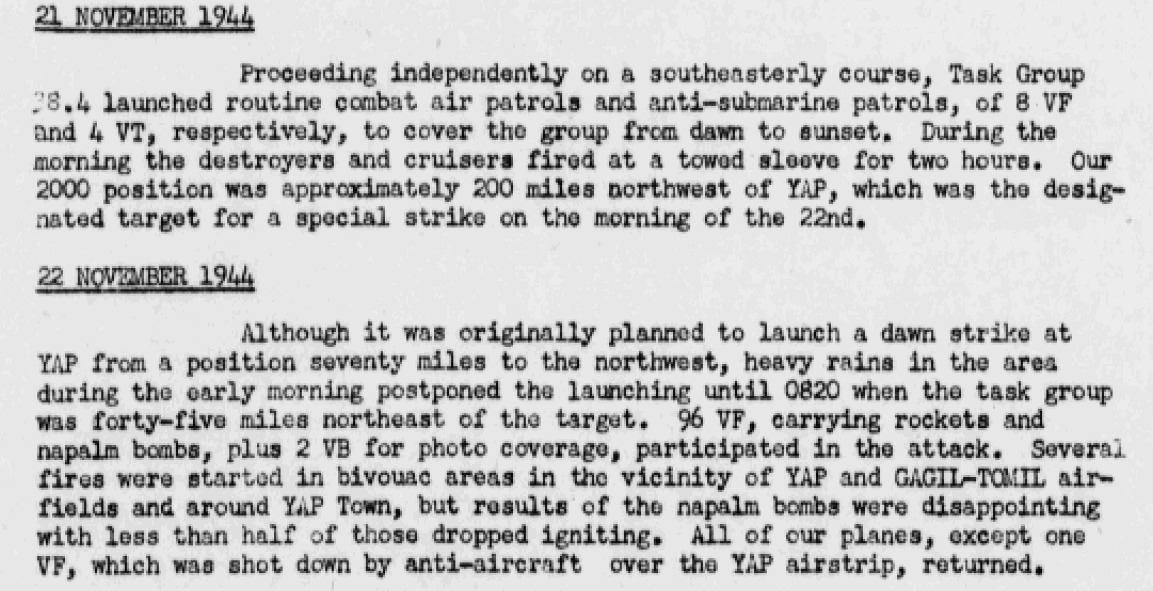 MIA/KIA STATUS: The following information was provided by the Navy and Marine causality offices:
| | | | | | | | |
| --- | --- | --- | --- | --- | --- | --- | --- |
| PERMANENT CEMETERY | LAST NAME | FIRST NAME | MI | SUFFIX | RANK | SERVICE # | DISPOSITION |
| MIA | LILLARD | ZACK | F | Jr. | LT | O 105971 | Missing |
Picture of Lt. Zack F. Lillard:
January 5, 1946: STATEMENT CONCERNING FINDING OF DEATH:
Lieutenant Zack Ford LILLARD, Jr., A-V(N), USNR, 1/5/46 Attached to Fighting Squadron TWENTY, based aboard the USS ENTERPRISE (CV-6), has been carried on the office records in the status of "missing in action" as of 22 November 1944.
The above named officer was officially reported to be missing in action as of that date in dispatches from the Commanding Officer, Fighting Squadron TWENTY, is the Secretary of the Navy.
On 22 November 1944, Lieutenant LILLARD, in F6F-5 airplane, Bureau number 56638, took off from the USS ENTERPRISE in a flight of thirty planes of similar type to participate in a rocket and five-bombing attack on designated _____ areas at Yap Island. After the rocket and bombing runs were completed, most of the planes, including that of Lieutenant LILLARD, returned for a strafing attack. Lieutenant LILLARD made a strafing run on anti-aircraft positions at the east end of the runway. Since the anti-aircraft fire appeared to be meager, he went low in a shallow dive. His plane was hit and the tail blown off. After two slow rolls out of control, it dove in to the ground from several hundred feet altitude at the east end of the runway, and exploded violently. Lieutenant LILLARD was not seen to leave the plane prior to the crash.
To date no further information has been received by the Navy Department concerning the fate of the above named officer.
In view of the strong probability that he was instantly killed when the plane in which he was flying, was hit by enemy anti-aircraft fire, crashed and exploded, because no official nor unconfirmed reports have been received that he survived, because his name has not appeared in any lists or reports of personnel liberated from Japanese prisoner of war camps, and in view of the length of time that has elapsed since his was reported to be missing in action, it is recommended that the above named officer be found to be dead as set forth in the attached finding of death.
December 7, 1944 Newspaper article about Lt. Zack F. Lillard:
The following article was located by the Wise County Historical Commission in Decatur, Texas. The article was in the Wise County Messenger on December 7, 1944. Mrs. Rosalie Gregg from the Wise County Messenger added the following information:
...I did talk with a Mr. Donald Brown, who knew Mr. Lillard. He told me Mr. Lillard probably graduated from Decatur High School in 1934 or 35, attended college at Southern Methodist University, there met and married Ann Lacey, a daughter of a rather wealthy man.
Information about Lt. Lillard from Interview with Alex Phillips (VF-20 Pilot):
The Yap raid on 22 November 1944 was the only combat fligth by Lt. Lillard.
Lt. Lillard was a ladning officer did not fly combat but he had to get out and fly combat and asked to fly the 22 November 1944 mission.
Lt. Lillard was married and his wife's family was in the gas business in TX and very wealthy.
Education Information:

The following information was received from Southern Methodist University:
Zack Ford Lillard Jr attended Southern Methodist University between fall 1935 and spring 1941. He also attended University of Texas and Kilgore Jr College. He graduated from Woodrow Wilson High School in 1935.
Letter from Comdr. Fred Bakutis

This letter from Lt. Comdr. Fred Bakutis describes the loss of Ens. Edward Spears. He describes how Lt. Lillard and Ens. Cox searched for Spears after his plane went down. The letter is part of the Clint Daniel collection, http://www.Danielsww2.com.

January 2012 Update

The following all-weather memorial sign will be shipped to Yap and installed at the crash site to remember Lt. Lillard. A marble marker will be shipped with the sign and encased in concrete next to the sign. The memorial project has been a partnership between the Missing Air Crew Project and the Yap Visitors Bureau that has been ongoing since 2008. The plan is to setup all-weather memorial signs and markers for all of the men killed on Yap during WWII.

Fact Sheet about Lt. Lillard





Description:

AA Hit, SDAA at Yap

American Battle Monuments Commission Information:
Lieutenant, U.S. Navy
Service # 0-105971
United States Naval Reserve
Entered the Service from: Texas
Died: 23-Nov-45
Missing in Action or Buried at Sea
Tablets of the Missing at Honolulu Memorial
Awards: Distinguished Flying Cross, Air Medal, Purple Heart
Please submit additional information.