You are here: Home | American Planes Lost on Yap | Photographers Mate Joseph Day
Wounded over Yap in a Helldiver—Photographers Mate Joseph
Photographers Mate Joseph Day was wounded when hit by AA fire over Yap in a USS Enterprise (CV-6) VB-20 Helldiver (SB2C-3) on November 22, 1944.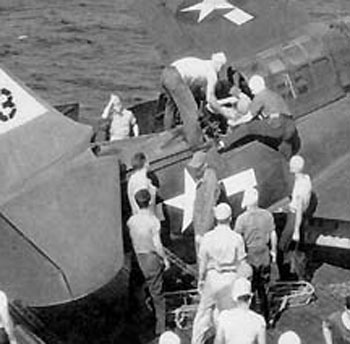 Wounded Photographers Mate Joseph Day is eased from a VB-20 Helldiver, 22 November 1944.
November 13, 1944 Update From Pat Ranfranz—Joe Day Passed Away on November 12, 2007 I received Joe Day's phone number last week from someone with the CV-6 Association (USS Enterprise). I was traveling on business last week so I put off the call until this afternoon. I reached Joe's daughter Marge and received the news that Joe Day passed away on Veterans Day after putting out the flag. His services will be held this week near his home in CA. I talked with his daughter for a few minutes and she shared the story of her dad losing his leg from the AA hit over Yap and meeting her mom (also Marge) when Joe was being treated for his injury. Although I missed talking to Joe by a few days, I'm going to work with the family in upcoming months to scan all the pictures that Joe collected during the war. As a photographer during the war Joe took and saved a lot of images. Perhaps some Yap related images are part of his collection. Although I never talked to Joe, I'm sad to hear of his passing this week and wish with high sight that I would have called him last week when I first received his number and he was expecting my call.
Wounded over Yap in a Helldiver—The Joe Day Story
The picture below is of wounded Photographers Mate Joseph Day being eased from a USS Enterprise VB-20 Helldiver (SB2C-3) after a photo mission over Yap Island on 22 November 1944.
I have viewed this photo a number of times on the www.cv6.org web site but never connected it to Yap until a model maker from Brazil, Franklin Ferreira, sent me an email and asked if I had more information about this particular Helldiver (SB2C-3), the wounded man and the mission against Yap. Evidentially, Franklin from Brazil is making a model of this aircraft and wanted all the details to make it an exact replica.
After receiving the email from Franklin I realized that the date lined up with the VF-20 raid against Yap and that any raid by VB-20 on 22 November 1944 most likely had to be against Yap as well. Task Group 38.4 attacked Yap on 22 November 1944 after striking Luzon, Philippines on November 19th. The force was ordered back to Ulithi and before it arrived there on the 22nd a fighter sweep was launched against Yap, where a Hellcat (F6F) flown by Lt. Zack Lillard was shot down. The carriers in the Task Group were Enterprise, Hornet, Monterey and San Jacinto.
On 22 November 1944 thirty VF-20 Hellcats, plus two VB-20 Helldivers (the one pictured below), took part in the attack against Yap. The purpose was to drop napalm on a bivouac area near the main runway. After completing the drop most of the fighters made strafing runs as there was little apparent AA fire. This may have led to some complacency and Lt. Zack's Lillard's Hellcat group was noted as leaving its pullout rather late. Just then the enemy opened up and shot off his tail, causing his Hellcat (F6F) to crash and explode at the east end of the runway.
The AA fire also hit the Day's Helldiver and wounded severely wounded him. Both VB-20 Helldiver's returned to the USS Enterprise (CV-6). The other air craft had photographer Leonard Globus and it was not hit by AA fire. Joseph Day was under Navy Hospital care for months after WWII and ultimately lost his leg by amputation, however, he married his Navy Nurse and she is still taking care of him today!
As of today, 5 November 1944 both Photographers Mate Joseph Day and Leonard Globus still live in California. I plan to call Joseph Day later this week to talk.
Once again, we have located and preserved a little piece of Yap related history that includes an interesting story of survival and love!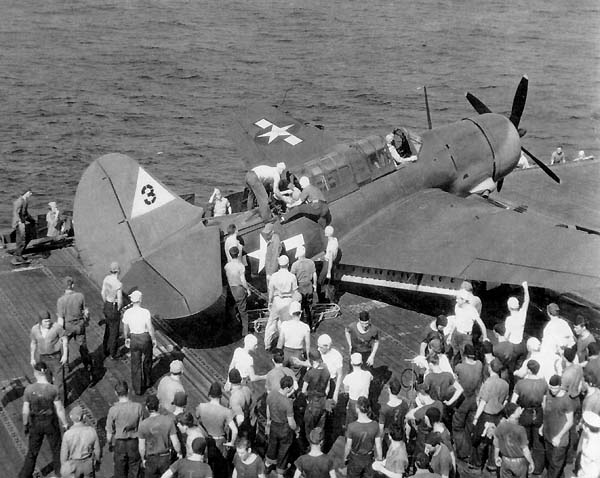 Wounded Photographers Mate Joseph Day is eased from a VB-20 Helldiver, 22 November 1944.
Source: William T. Barr, www.cv6.org.
Replica Model of SB2C-3 Black 3 Helldiver from the USS Enterprise
The following pictures are of the model built by Franklin Ferreira from Brazil. The model is a replica of the SB2C-3 "Black 3" Helldiver that Joe Day was wounded in over Yap on 22 November 1944. The "Black 3" Helldiver was a photo plane on 22 November 1944 and took pictures while Hellcats from VF-20 raided Yap.
Submit comments about this site
Follow the Missing Air Crew Project On:


PIN IT
Web Site Terms of Use: This web site authorizes you to view materials solely for your personal, non-commercial use. You may not sell or modify the material or reproduce, display, distribute, or otherwise use the material in any way for any public or commercial purpose without the written permission of the web site owner. pat@missingaircrew.com