23 June 1944
B-24J
13th AF, 5th BG, & 23rd BS
All 10 Men listed as MIA:
William M. Bolton
Wesley D. Christiansen
Louis G. Mossburg
William L. Jr. Reilly
Earl F. Jones
James W. Trotter
Norbert Bigley
Hyman Larner
Lurther S. Satterfied
Herbert T. Barrow

Sept 1946 Graves Registration Document
(pdf file 1.5 MB)

MACR 6382

AC# 42-110134



MACR #5807
(pdf file 22 MB)



Grave Registration Services Memo, Sept 1946

Description
Shot down by Japanese fighters 5 minutes south of Yap Island.
Bolton Crew Picture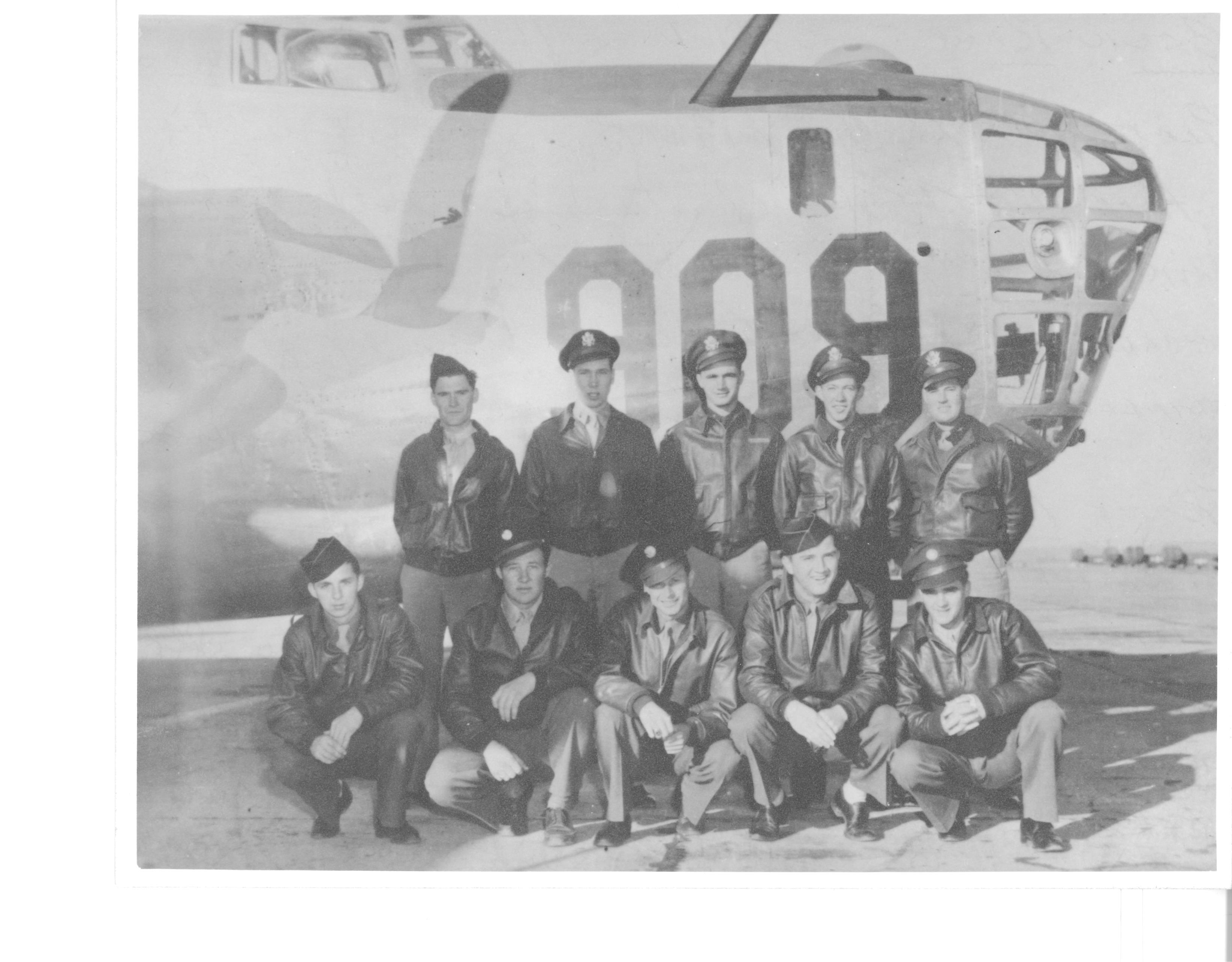 Bolton Crew: (Left to Right) " Front row: Sgt. Satterfield (tail gunner), Sgt. Barrow, S/Sgt. Daywalt (third engineer), T. Sgt. Bigley (radio), and S/Sgt. Trutter (engineer). " Back row: T.Sgt. Jones (engineer), 1st Lt. Riley (bombardier), 1st Lt. Mossberg, 1st. Lt. Christensen (copilot) and 1st Lt. Bolton (pilot).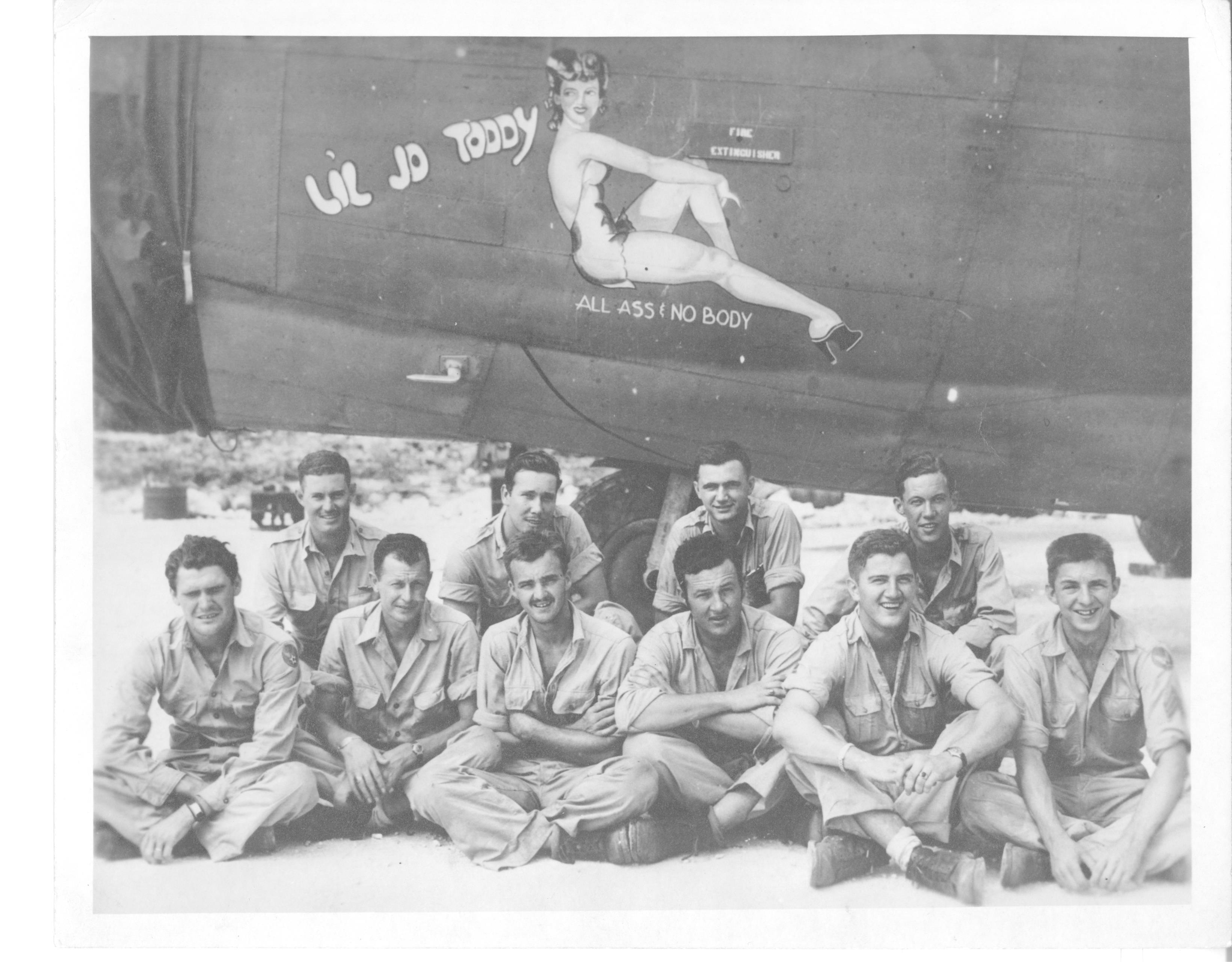 Bolton Crew: Crew of Lil Jo Toddy. (Left to Right) " Front row: T/Sgt. Jones (engineer), S/Sgt. Daywalt (engineer), S/Sgt. Trotter (engineer), Sgt. Barrow (waist gunner), T/Sgt. Bigley (radio operator), and Sgt. Satterfield (tail gunner). " Back row: Lt. Bolton (pilot), Lt. Riley (bombardier), Lt. Mossbury (navigator) and Lt. Christensen (copilot).
Mossburg Family Pictures and Documents
The following documents and pictures were shared by Dean "Louis" Mossburg to help document the life of his uncle, Louis Glenn Mossburg. The memorial service booklet provides a nice overvierw of both Louis Glenn Mossburg and William Max Bolton (friends).
Here are 2 photos of my Uncle, his crew mates and their plane. I have also attached a copy of the program from the memorial service held for my Uncle and pilot, Max Bolton. Max Bolton and my Uncle spent time together in the little Indiana town where they were from. I do not know which person is Max Bolton in the pics but my Uncle is in the back row, middle person of the pic where they are standing and in the other group pic he is in the back row, 2nd from the right. I also scanned a list of names and maybe service numbers of men that my Uncle completed training with,I am assuming this list of names are guys that my Uncle completed training with? Maybe you can clarify what this list is. Thanks again for your efforts to find the whereabouts of your Uncle and to all the other boys that were lost around Yap Island. Dean "Louis" Mossburg
The following documents have been shared by the Mossburg family to document the life of Second Lieutenant Louis Mossburg:

Click on an images below to enlarge

Possible Tokyo Rose Message about Herbert Barrow?

The following is a transcribed copy of a letter that Dean "Louis" Mossburg Grandmother received from Herbert Barrow's mother regarding her son. The family is wondering if the message received over the radio was some sort of cruel joke played out by Tokyo Rose?
Mon Jan 1

I am going to try to tell you all the news that we have had about our son. We hope and pray that the other members of his crew are safe with him. A boy from a small town near us who is in the Navy and is a radio man on the ship USS ??? was listening to some shortwave messages on the 23rd of November. A message he heard was from Tokyo, Japan. It said, "stand by Moultrie,Ga., anyone that hears this please relay to the family of Herbert"( the static took the rest of the name away). Then Herbert talked and this is what he said," My health is good and I am treated good and as happy as can be expected. Send my deepest love to the family." The sailor who had heard this wrote a letter back here and it was put in the newspaper here in Moultrie. After we read it we felt like it was our boy. We went to the Selective Service Board, the men of the board there records and went through them. They said our Herbert was the only boy from this county that had the name Herbert that was missing or gone in anyway. So they said it could not be anybody else but our son. If only we could have heard that message. I wonder if I would have heard it though, but if he is alive and can come home when this is over i will continue trying to be brave and i feel that he is happier if his crew is with him for he was found of each of them.

Mrs Barrow of Moultrie,Ga
Please submit additional information.