13 July 1944
B-24
13th AF, 307th BG, & 370nd BS
All Men listed as MIA:
Pat Note: Four men were rescued by a friendly submarine on 14 July 1944.
Pilot: 2nd Lt. Walter E. Ball, Jr.
2nd Lt. Wayne L. Simpson
Sgt. Herbert A. Clark
S/Sgt. Raymond J. Zeltmann
Sgt. Milton R. Clendennen
Sgt. Thomas W. Corley

Men Who Survived:

2nd Lt. Douglas J. Vaughn
Flight Officer, William L. Merrill, Navigator
S/Sgt. Richard A. Morrison
S/Sgt. Bert T. Hawes
MACR 10653

AC# 44-40609



13 July 44 Mision Report
(pdf file 500 KB)



MACR #10653
(pdf file 6.8 MB)



The Long Rangers book excerpt
(pdf file 450 KB)


USS Guavina July 1944 War Patrol Report--High Res

Description

DAMAGE OR LOSS: A/C#609, Lt. Ball, pilot, crashed into the ocean at 08 48'N – 138 50'E between 1250 and 1255/K as result of E/A fire. Normal crew compliment of ten men were abroad. This plane lost #1 engine just after making the turn off the bomb run. The plane slowed its speed and it was immediately attacked by 5-6 E/A. #2 engine then began to smoke and began losing altitude rapidly, and finally crashed. Two men were observed in the water, one trying to get into a partially inflated life raft, and the other within a few feet of the raft. The plane floated for 3-4 minutes, but broke up, and much debris (bomb bay tank, oxygen bottles, etc) was in the area. Four planes were holed by E/A fire, one plane was slightly damaged by a phosphorous bomb, and two planes received small holes from AA fire.

Information and Pictures Supplied by Family

The following information was supplied by Betsy Brown. Her father-in-law was Richard A Morrison (one of the survivor's of the July 13, 1944 loss). Betsy's family is trying to research the crew of A/C #44-40609. They have located the following documents and pictures. Betsy would like to hear from anyone associated with this crew.

The survivors' mothers were relieved knowing their sons were safe and thus Lt Vaughn's mother wrote a Christmas card to Morrison's mother (her was surname Stecker; Richard Morrison's father died when he was an infant and he was raised by his mother and stepfather in Ione, Washington). You can see that Lt Ball's father was desperate for more details immediately following the MIA telegrams. If they were anything like the telegrams Morrison's mother received, the news was brief and bewildering. We know now that the four survivors were already aboard the submarine that rescued them but word was not yet received at headquarters and they were listed as MIA, shocking news to the families back home. We think Mr Ball referred to the crew photo taken during training.

Click on a thumbnail image below to view the full sized image.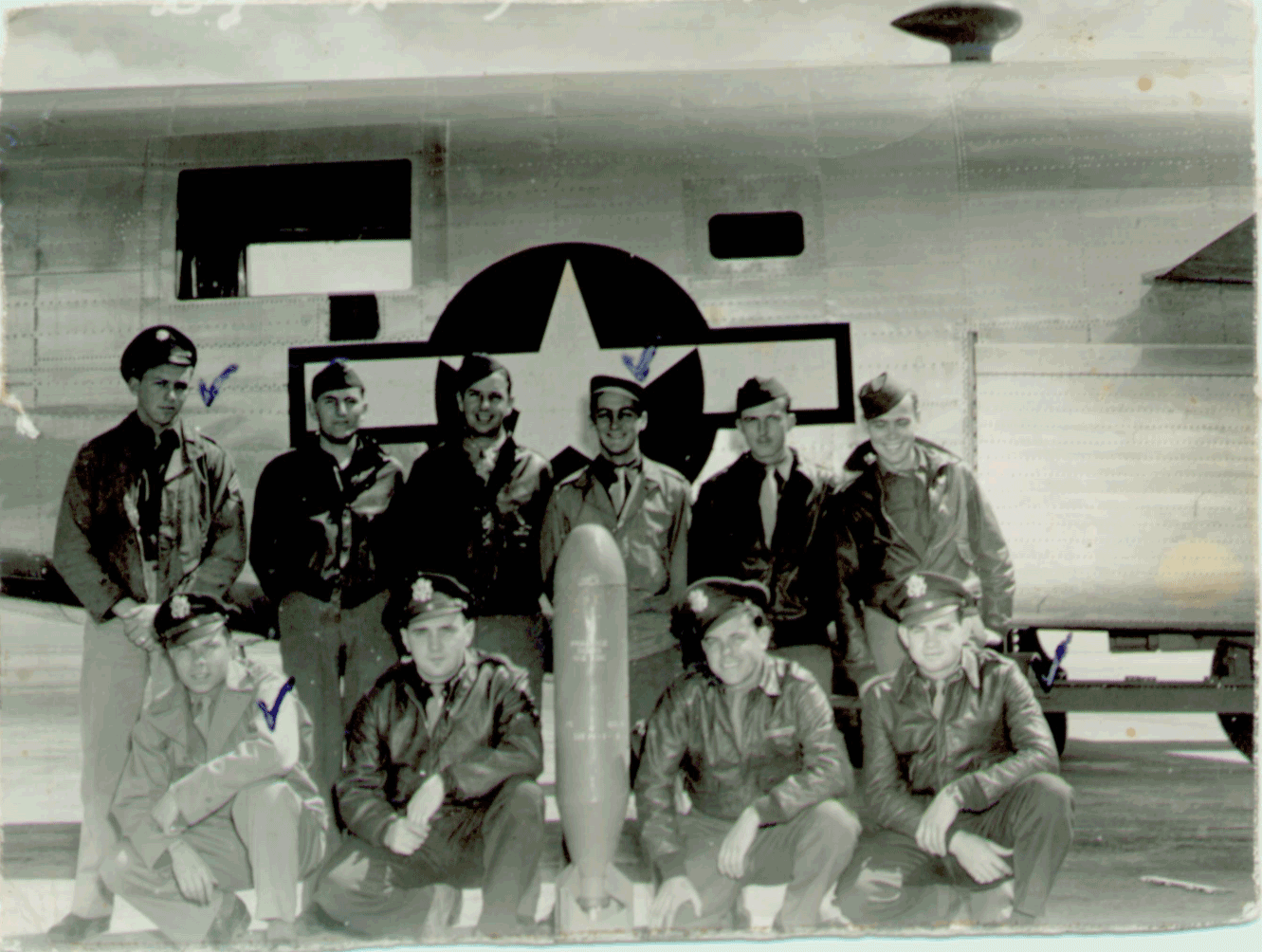 The crew photo was taken during training at Tonopah, spring 1944. The four check marks, presumably added by Richard, indicate the survivors from 13 Jul 1944. Standing L-R: Morrison, Zeltmann, Clendennen, Hawes, Clark, Corley Kneeling L-R: Vaughn, Ball, Simpson, Merrill

Betsy's Evidence to prove who is in the photo above:
Morrison 19 years old and 71" or 5'11" [his father was 6'5" but mom was short]
Zeltmann was 31y and 68" or 5'8" 188 pounds
Clark was 33y 66" or 5'6" tall per enlistment record
Corley was 20y and 5'7" [nose gunner, smaller guy usually]
Clendennen was 19 yo but no height on his card and name on transcription of card had a typo: Clel-dennen
So my logic: between the 30-something men Zeltmann was taller. Thus my educated guess.
If ever someone can offer Betsy evidence to disprove her guess, please let us know.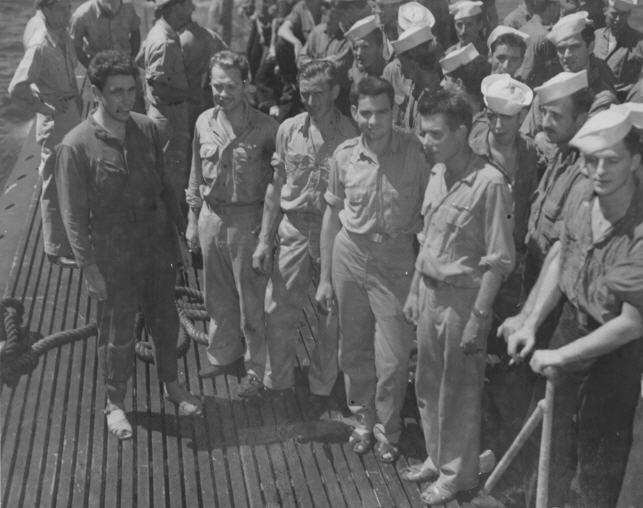 Surviving officers of the B-24 shot down over Yap Island on July 13, 1944 with other survivors from a B-24 shot down over Yap on July 19, 1944. They pose with the crew of the submarine, USS Guavina, that rescued them. They are, left to right: 1st Lt. Phillip Hickey, Youngstown, Ohio; Capt. Robert N. McConnell, Chicago, Illinois; Capt. Dick R. Longino, Jr., Atlanta, Georgia; Flight Officer William L. Merrill, Monmouth, Illinois and 2nd Lt. Douglas J. Vaughn, Oakland, California.
Pictures of the the four crew members rescued by the submarine USS Guavina with crew members from another plane
View the

USS Guavina July 1944 War Patrol Report--Low Res

Click on a thumbnail image below to view the full sized image.
Stephanie Zeltmann shared pictures and information regarding her great uncle (father's uncle) S/Sgt. Raymond J. Zeltmann.
Please click on the image to enlarge.

S/Sgt. Raymond J. Zeltmann

S/Sgt. Raymond J. Zeltmann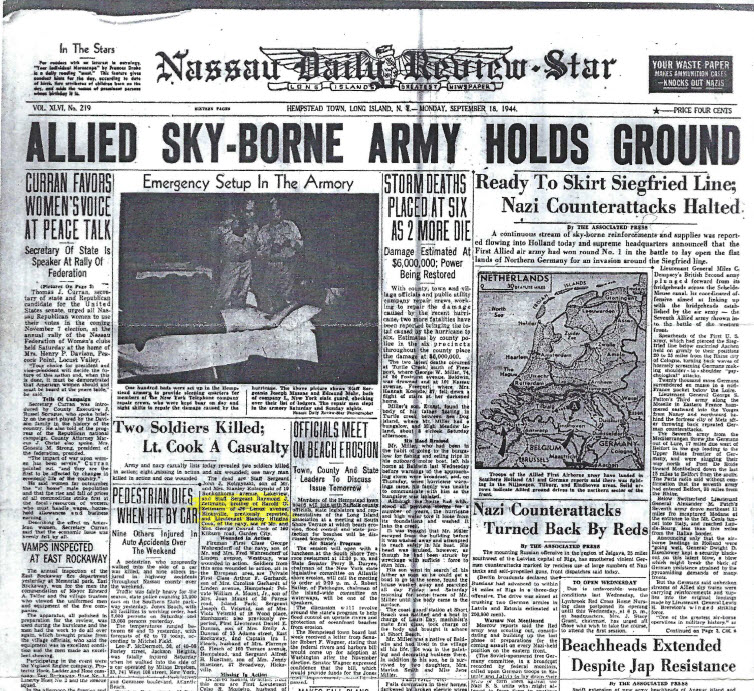 S/Sgt. Raymond J. Zeltmann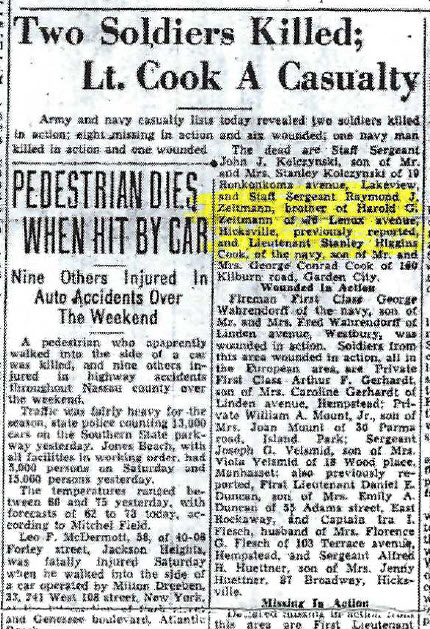 S/Sgt. Raymond J. Zeltmann
Please submit additional information.