You are here: Home | American Planes Lost on Yap | 31 October 1944
Yap Island Mission Loss—31 October 1944


The following plane was lost on 31 October 1944 on a mission to Yap Island. I would greatly appreciate anyone's help to locate additional information regarding the information listed below.Submit additional information, updates, newpaper articles, pictures, and supporting documents to: pat@missingaircrew.com
Date:
Plane Type:
Unit:
Crew Names:
Supporting Documents:
31 October 1944
FG-1A
Corsair from station at Peleliu
VMF-121, GROUP MAG-11, USMC

Lt. George O. Beall, Jr. (23331) (KIA)

Bureau #14279
Description:
Hit by AA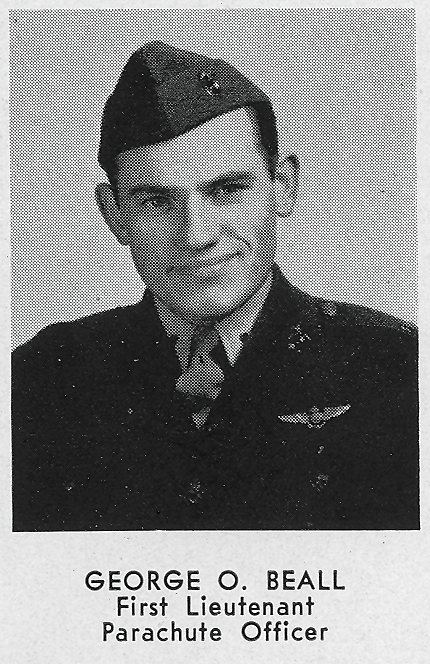 Lt. George O. Beall, Jr.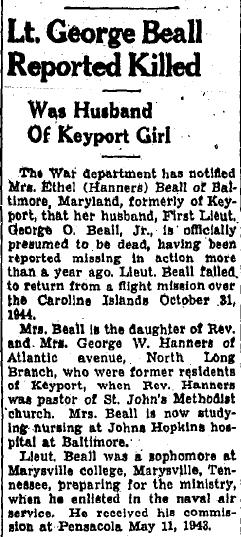 March 14, 1946 Red Bank Register Newspaper article about Lt. George O. Beall, Jr.

VMF-121 Squadron Picture:

The following VMF-121 Squadron picture shows four of the Corsair pilots who were shot down over Yap Island in the fall of 1944 including, Lt. Allan J. Carmena, Lt. George O. Beall, 1st. Lt. Robert L. Gillis and Maj. William Jr. Clay. Carmena was rescued after ditching his Corsair, however, the other pilots were lost and are either listed as MIA or KIA.

Crash Site Pictures

Pictures of the Lt. George O. Beall, Jr. crash site. On our 2006 trip we located what we called an unidentified American crash site that include a R-2800 engine but no other visible wreckage. We searched the area around the engine site in 2006, 2008 and 2009 without success in locating the rest of the wreckage. Over the years my research of all the Yap losses identified the site as that of Lt. George O. Beall, Jr. Lt. Beall was shot down over Yap on October 31, 1944 while flying a mission to bomb the Gagil-Tamil airstrip on Yap Island in his FG-1A Corsair from Peleliu Island.

MIA/KIA STATUS: The following information was provided by the Navy and Marine causality offices:
| | | | | | | | |
| --- | --- | --- | --- | --- | --- | --- | --- |
| PERMANENT CEMETERY | LAST NAME | FIRST NAME | MI | SUFFIX | RANK | SERVICE # | DISPOSITION |
| Arlington National Cemetery | BEALL | GEORGE | O | Jr. | 1 LT | O 23331 | Individual identification |
Please submit additional information.
Submit comments about this site
Follow the Missing Air Crew Project On:


PIN IT
Web Site Terms of Use: This web site authorizes you to view materials solely for your personal, non-commercial use. You may not sell or modify the material or reproduce, display, distribute, or otherwise use the material in any way for any public or commercial purpose without the written permission of the web site owner. pat@missingaircrew.com