Please see the MACR report for a full description of the rescue of 8 of the 10 crew members by a submarine.

Description:

On July 19, 1944 B-24's from the 5th Bomb Group bombed Yap Island. The lead plane of the 394th squadron was flown by Captain Dick Longino. The bomb run was made at 13,500 feet and no Japanese AA fire was observed. About five minutes after bombs away, five Japanese fighters were observed attempting frontal attacks on the bombers. Capt. Longino noticed a fire between his number 1 and number 2 engines. His B-24 began to descend. They asked for a bearing towards the rescue submarine but were forced to abandon the plane as the fire became more intense. Other B-24's circled over the downed crew members in the water and they dropped rafts. The rescue submarine was not far away and amazingly was able to locate and rescue eight of the ten crew members throughout the day and the next day, July 20th. The following pictures were taken when the submarine, the USS Guivina, returned the men to their base on the Admiralty Islands.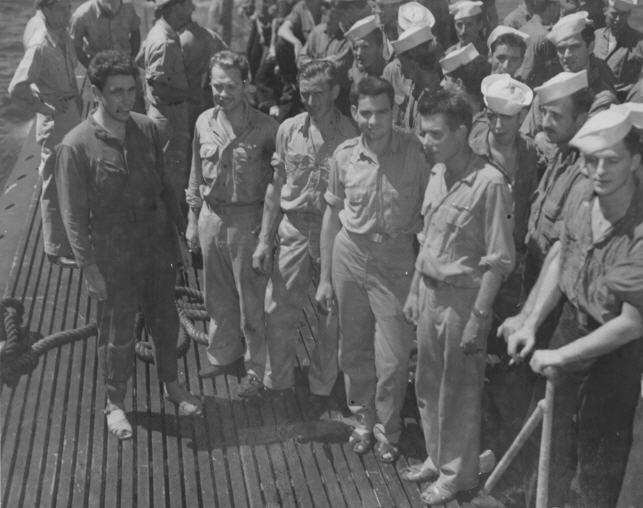 Surviving officers of a 394th Bomb Squadron, 5th Bomb Group B-24 (shot down on July 19, 1944) and a 13th AF, 307th BG, & 370nd BS B-24 (shot down on July 13, 1944) shot down over Yap Island. They pose with the crew of the submarine, USS Guivina, that rescued them. They are, left to right: 1st Lt. Phillip Hickey, Youngstown, Ohio; Capt. Robert N. McConnell, Chicago, Illinois; Capt. Dick R. Longino, Jr., Atlanta, Georgia; Flight Officer William L. Merrill, Monmouth, Illinois and 2nd Lt. Douglas J. Vaughn, Oakland, California.
Pictures of the Capt. Longino crew rescued by the submarine USS Guivina
View the

USS Guavina July 1944 War Patrol Report--Low Res

Click on a thumbnail image below to view the full sized image.
Capt. Longino crew reports about their rescue by the submarine USS Guivina
Click on a thumbnail image below to view the full sized image.
| | | |
| --- | --- | --- |
| rescue1 | rescue2 | rescue3 |
| rescue4 | rescue5 | |
Missing Air Crew Report 9560
Click on a thumbnail image below to view the full sized image.
| | | | | |
| --- | --- | --- | --- | --- |
| 19july_01.gif | 19july_02.gif | 19july_03.gif | 19july_04.gif | 19july_05.gif |
| 19july_06.gif | 19july_07.gif | 19july_08.gif | 19july_09.gif | 19july_10.gif |
| 19july_11.gif | 19july_12.gif | 19july_13.gif | 19july_14.gif | 19july_15.gif |
| 19july_16.gif | 19july_17.gif | 19july_18.gif | 19july_19.gif | 19july_20.gif |
| 19july_21.gif | | | | |
Peter J. Ferrand Information:
The following information was supplied by the family of Peter J. Ferrand:
I saw your website seeking information on the crewmembers who survived the B-24 crash in 1944. My wife, Elizabeth, is the daughter of Peter Ferrand, who survived the crash by parachuting. He became entangled in his parachute lines once in the water, and had to cut himself free. he was picked up by a submarine and taken to safety.

He returned to Chicago after the war, married Nordice Harris in 1946, and had three children: Elizabeth, Peter Jr, and Jeannie. He moved his family to San Bernardino California in 1961, and worked there as a Psychiatric Technician at a state mental facility. He retired and moved to be near his daughter Jeannie in northern San Diego County, where he died in March of 2000. His son died in 2010, but his first grandson was born in 2011. His two daughters are married and doing well.

Clark Morrow
Please submit additional information.