You are here: Home | Yap Island Missing Air Crew Project Search Trip-October 2005
Japanese Tabby-Showa/Nakajima L2D-License-built version of Douglas DC-3-Crash Site on Yap Island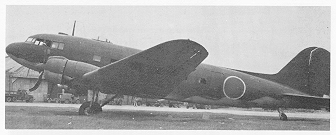 Japanese Tabby, Showa/Nakajima L2D, Navy land-based twin-engined transport was a license-built version of Douglas DC-3
We were told about a Japanese cargo plane in the jungle near the old airport by our guide, Theo. Since this wreck is easy to locate off a road near the old airport I'm assuming it has been visited by a number of people over the years. The wreck site was well known by the hotel staff and local villagers.
The Japanese Tabby, Showa/Nakajima L2D, was a Navy land-based twin-engined transport that was a license-built version of Douglas DC-3. (21-passenger) The Japanese had signed a licensing agreement with the Douglas company in February 1938 to build domestic versions of the DC-3, which they called the L2D or simply "Tabby." At the time, the Douglas company was unaware that the Japanese navy intended to use the Tabby as military transport aircraft.


Click on the thumbnail images below to view the full-sized image.
Page: [1] [2]
Page: [1] [2]
Submit comments about this site
Follow the Missing Air Crew Project On:


PIN IT
Web Site Terms of Use: This web site authorizes you to view materials solely for your personal, non-commercial use. You may not sell or modify the material or reproduce, display, distribute, or otherwise use the material in any way for any public or commercial purpose without the written permission of the web site owner. pat@missingaircrew.com