You are here: Home | 307th BG Index | 307th Bomb Group Radio Operator Walter Clark Beaty
307th Bomb Group Radio Operator Walter Clark Beaty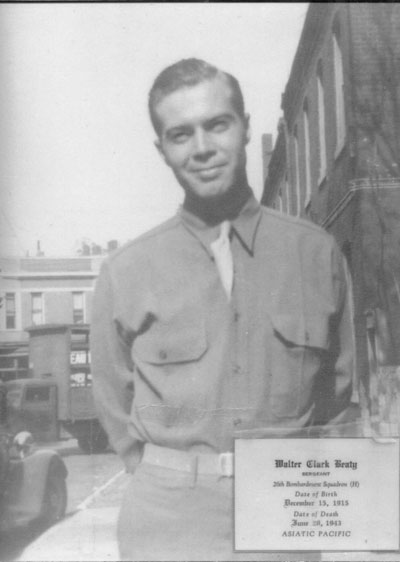 Walter Clark Beaty
The documents on this page were supplied by Colin Beaty from Australia. Colin is seeking information about his Grandfather, Radio Operator Walter Clark Beaty, serial # 36071091, who was with the 307th BG from April 42 until May 43 and then was assigned to the 11th BG, 26th BS. He was killed aboard the Knit Clipper 42-40177 on 28th June 43. Please submit additional information about Walter Clark Beaty to: pat@missingaircrew.com
Walter Clark Beaty
Serial # 36071091
Radio Operator
He was with the 307th BG,371st BS from April 1942 until May 1943.
Transferred to the 11thBG,26th BS 10th May 1943 and was killed 28th June 1943 aboard the B24D Knit Clipper - 42-40177
We have not been able to link Walter to a plane or crew while he was in the 307th and he may have been with the Wallace McGreevy crew on the Flying 8 ball or another plane but we are not really sure.
Walter received the Air medal for bombing missions of Nauru April 20th and Tawara 23rd April 1943. He also had bronze clusters to the Air medal so could have been on other missions.
The family would dearly love to know the name of his plane and crew and would greatly appreciate any information.
October 1942 Army Air Force Documents: The following documents list 307th Bomb Group aircraft and crews at Hamilton Field, CA prior to departure to the Pacific.

10 May 1943 Transfer Orders: File listing men from the 307th BG that were transferred to the 11th BG on 10 May 1943. The file has been rewritten due to the poor quality of the original. Crash of the Knit Clipper 42-40177 on 28th June 43: Newspaper article about Wallace McGreevy who was the co-pilot of the Knit Clipper when it crashed. Six of the ten crew survived which is a miracle in itself but sadly Walter Clark Beaty was not one of them. As you will see he survived the crash but is listed MIA.

Please submit additioanl 307th Bomb Group information and pictures to: webmaster@missingaircrew.com





Submit comments about this site

Follow the Missing Air Crew Project On:


PIN IT
Web Site Terms of Use: This web site authorizes you to view materials solely for your personal, non-commercial use. You may not sell or modify the material or reproduce, display, distribute, or otherwise use the material in any way for any public or commercial purpose without the written permission of the web site owner. pat@missingaircrew.com