You are here: Home | American Planes Lost on Yap | | PFC Kenneth D Gillispie
PFC Kenneth D Gillispie, Avenger Loss, March 16, 1945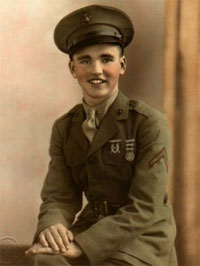 PFC Kenneth D Gillispie

The following pictures were supplied by Don and Charlie Gillispie in memory of PFC. Kenneth D Gillispie. PFC Kenneth D Gillispie (gunner) and his pilot Lt. Joseph Crowley were shot down over Yap Island on March 16, 1945. They were flying a Marine Air Corps TBM-3 Grumman Avenger from VMTB-232 based on the island of Ulithi. The plane was shot down near the main Yap airstrip. PFC Kenneth D Gillispie body was recovered in 1948, however, Lt. Joseph Crowley is still listed as missing in action. View additional information about the March 16, 1945 loss over Yap. MORE

Don Gillispie brother spoke with someone from the VMTB-232 Association in the past and he was advsied that the CO's plane always dove in on the target first and his job was to count the number of planes that came out of the dive. He said that Crowley's plane (which was second to dive on the target) never came out of the dive and crashed near the end of the Japanese air strip. Someone from the squadron returned to Yap after the war and found what was left of the wreckage exactly where they said it was near the end of the runway. However, it was extremely overgrown with vegetation and it took them a while to find it.

Please submit additional information to: pat@missingaircrew.com

Click on a thumbnail image below to view the full sized image.
| | | | |
| --- | --- | --- | --- |
| David Gillispie father of Kenneth Gillispie | David Gillispie and son Kenneth. | Kenneth D. Gillispie | Kenneth D. Gillispie baby picture |
| Kenneth Gillispie high school graduation | Kenneth Gillispie Diploma | Pearl Hagar mother of Kenneth D. Gillispie | Kenneth's mother Pearl Hagar Gilllispie-Kenny-girl friend and father David O. Gillispie. |
| Picture of Kenneth taken just before he went to his squadron. | Picture of Kenneth (left) with his half brother Russell taken on his last leave. | A telegram from Kenneth's mother to his half brother Russell. | A picture taken at the funeral of Kenneth. |
| Kenneth and sister Thelma | Kenneth Baby | Kenneth on a bike | Russell and Ralph Gillispie, little one Kenneth Gillispie and the other one is Ed Libby a half brother to Kenneth. |
| Kenneth Gillispie sister Thelma | Airstrip Falalop Island Ulithi | Falalop Island Ulithi Atoll | Kenneth Newspaper Article |
| Red Devil Squadron 232 | War Diary | | |
Crash Site Pictures from 16 September 1945
Click to enlarge the pictures.
Copyright Notice: All images and text on this website are protected by U.S. and International Copyright Law. No images or text should be copied, downloaded, transferred, or reproduced without the written consent of Patrick Ranfranz and the Missing Air Crew Project. Please email Pat at: pat@missingaircrew.com
Submit comments about this site
Follow the Missing Air Crew Project On:


PIN IT
Web Site Terms of Use: This web site authorizes you to view materials solely for your personal, non-commercial use. You may not sell or modify the material or reproduce, display, distribute, or otherwise use the material in any way for any public or commercial purpose without the written permission of the web site owner. pat@missingaircrew.com