You are here: Home | Sept 2006 Search Trip | v | Yap Harbor Wreckage Identified-ARC-5 Radio Rack with Lord Mount
Yap Harbor Wreckage Identified-Hellcat MT-64/ARC-5 Radio Rack
Update: Taigh Ramey from Twin Beech provided the following information: Here are pictures of an MT-64/ARC-5 radio rack with shock mounts (black mount in pictures) on a F6F-5 Hellcat. Although the ARC-5 radio receiver was used on both AAF and Navy/Marine planes, the MT-64 manufacturer number indicates that the mount was likely on a Navy plane. AAF manufacturer numbers on radio mounts had a "BC- xxx" designation. The AAF used similar command set gear as the Navy ARC-5, but they called their series SCR-274N. The ARC-5 and the SCR-274N are commonly thought to be the same set and do look very similar, but are different sets and are not interchangeable.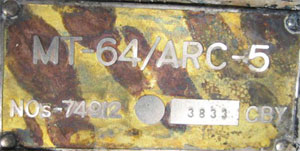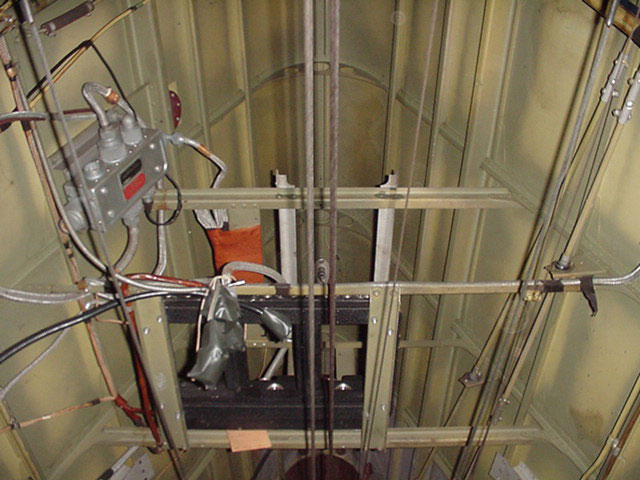 MT-64/ARC-5 radio rack tag found on the wreckage and a picture of a rack within a F6F-5 Hellcat.
The ARC-5 radio rack with lord mount was located within the wreckage area in the Yap harbor. The rack was cleaned and documented in the pictures below and then returned to the wreck site. As you can see from the pictures below, we located a tag on the wreckage that clearly identifys the wreckage as an MT-64/ARC-5 radio rack.
Click on a thumbnail image below to view the full sized image.
| | | | | |
| --- | --- | --- | --- | --- |
| b24part_200 | b24part_201 | b24part_202 | b24part_203 | b24part_204 |
| b24part_205 | b24part_206 | b24part_207 | | |
<< Return to Yap Harbor Wreckage web page.
Copyright Notice: All images and text on this website are protected by U.S. and International Copyright Law. No images or text should be copied, downloaded, transferred, or reproduced without the written consent of Patrick Ranfranz and the Missing Air Crew Project. Please email Pat at: pat@missingaircrew.com
Submit comments about this site
Follow the Missing Air Crew Project On:


PIN IT
Web Site Terms of Use: This web site authorizes you to view materials solely for your personal, non-commercial use. You may not sell or modify the material or reproduce, display, distribute, or otherwise use the material in any way for any public or commercial purpose without the written permission of the web site owner. pat@missingaircrew.com