You are here: Home | Sept 2006 Search Trip | Japanese fighter with a 20 mm Cannon
Japanese fighter with a 20 mm Cannon Found Near Airstrip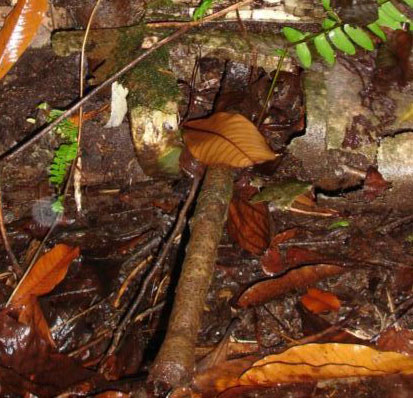 20 mm Cannon Found in Wing of Japanes Plane

The following pictures were taken of a Japanese fighter with a 20 mm cannon found near the old airstrip. The plane was broken into a number of pieces on a slope. The pieces included the engine and prop on the top of the hill. A few feet below we found a wing sitting right side up with the landing gear down. About 30 feet down the slope was a wing upside down with a 20 mm cannon still in the wing. The gear on this wing was sticking straight up in the air. We found the tail another 30 feet down the slope. The tail and back part of the fuselage was almost complete. It's likely this plane was hit on the ground by an American air strike; however, it was interesting to find the 20 mm cannon still in the wing. We assumed the Japanese removed guns and parts from the planes destroyed on the ground to use in other planes. Also, many of the planes have been scavenged since the end of the war therefore, finding the cannon still in the wing was an interesting discovery.

I believe the wreck is a Japanese Zero, however, I have not identified the plane at this time. Please feel free to submit comments about the pictures to help identify the plane type. Send emails to Pat at: pat@missingaircrew.com

Click on a thumbnail image below to view the full sized image.
| | | | | |
| --- | --- | --- | --- | --- |
| DSC02858 | DSC02859 | DSC02860 | DSC03043 | DSC03045 |
| DSC03046 | DSC03047 | DSC03048 | DSC03049 | DSC03050 |
| DSC03051 | DSC03052 | DSC03053 | DSC03054 | |
Copyright Notice: All images and text on this website are protected by U.S. and International Copyright Law. No images or text should be copied, downloaded, transferred, or reproduced without the written consent of Patrick Ranfranz and the Missing Air Crew Project. Please email Pat at: pat@missingaircrew.com
Submit comments about this site
Follow the Missing Air Crew Project On:


PIN IT
Web Site Terms of Use: This web site authorizes you to view materials solely for your personal, non-commercial use. You may not sell or modify the material or reproduce, display, distribute, or otherwise use the material in any way for any public or commercial purpose without the written permission of the web site owner. pat@missingaircrew.com