You are here: Home | Yap Island Search Trip-October 2005 | The Mystery? Did Some Crew Members Survive?
The Mystery? Information about American POWs, Catholic Priests, and Filipino Family from Yap & their Murder's on Palau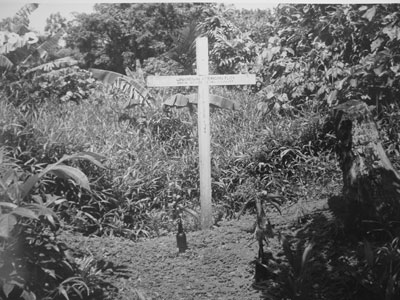 Click to Enlarge
The grave of an unknown American flier downed on Yap. 1945. Naval Historical Center. The writting on the cross reads, "Unknown American Flier, Died in Service of his country, 18 October 1944".

Information about the Coleman Crew located from interviews with Yapese elders-October 2005

Pat & Cherie Ranfranz spent an exhausting week on Yap Island in October 2005 searching for the Coleman crew and plane (B-24). Although we did not find the Coleman plane on our first attempt (Phase I), we came home feeling like we accomplished a lot during the trip. While on Yap we were going non-stop interviewing Yapese elders, hacking through jungles, crawling through mangrove swamps, and diving the waters to locate and document American crash sites.

While interviewing Yapese elders we received information that B-24 crew members parachuted out of a plane before it crashed near the SE corner of the Yap reef. These same interviews recounted that two American airmen were captured and interrogated by the Japanese and taken to the island of Palau along with two Catholic Priests and a Filipino man (and his family) who ran the weather station on Yap.

Read more about the following interviews (digital video of the interviews will be posted as soon as possible):

Common Knowledge that Priest and Filipino Family executed on Palau but who where the American's?

It's common knowledge within the Missing Air Crew research circles that the priests from Yap, Fr. Bernardo de la Espriella and Fr. Luis Blanco, were taken to Palau with the Filipino weather man, Acapito Felisa (and his wife and children), and were executed by the Japanese. The executions have been confirmed within documents I received from the Micronesian Seminar in November 2005. The documents include affidavits from Japanese shortly after the war ended. The documents have been posted below in a PDF file format.

The following questions still need to be answered:
Were American airmen captured on Yap?
How many airmen were captured on Yap and from what crews?
How many airmen were taken to Palau or elsewhere?
Were American airmen taken to Palau with the priests and Filipino family?
Researching and documenting missing American's:
I have created a new web page on this site,"Planes Lost on Yap", to document all the planes and men lost near Yap during the war. This will help us narrow down the men who may have been captured as we continue to search for more information including recently declassified Japanese transcripts. I feel the following are the strongest canidates
25 June 1944: Lt. Gerald Coleman and crew (307th BG) were shot down June 25, 1944 over Yap Island. One plane of 307th Gp was seen to crash at 9º25'30"N - 138º05'E at 1152 K. No survivors were seen and no fire, smoke or explosion from the plane. This plane was reported to have gone down in a flat spin and crashed just outside the reef south of the island. Two enemy fighters followed this airplane down but were not strafing. No parachutes were seen.


10 August 1944: Lt. Don Anthony (371st) and crew failed to return from Yap on August 10th. the plane was last seen entering a front thirty minutes before reaching target. Lt. Anthony, contacted the squadron leader, but the message was a garbled. A gunner from another squadron reported heaqring the following message: "Am going down in flames over the target." Radio Tokyo reported on August 11th, "The Japanese garrison on Yap Island shot down one enemy plane from an enemy formation of nineteen heavy boombers which raided the island yesterday." All searches for the missing crew and plane were negative. It is presumed that Lt. Anthony either dropped below the overcast and was hit by A/A fire or was jumped by the few remaining Japanese fighters while alone.


13 August 1944: Four UDT frogmen from the US Submarine Burrfish were listed as MIA after failing to return from reconnoitered Yap
Case Closed/Crew Non-Recoverable? :
PAT NOTE (25 May 2005):
Mystery solved? After reviewing information from other Individual Deceased Personal Files I have come to the conclusion that the 1951 requests for my uncle's dental records are nothing more than one last check by the Review Boards to match remains before closing out non-recoverable cases. My mystery associated with the dental records request is likely not a mystery at all since this same request is common in other files that have been shared with me. However, the files show that the Review Boards put little effort into locating and exploring water crash sites. Most were written off as non-recoverable without even searching for the plane (i.e. The Coleman Crew).
In 1948 a Board of Review declared the case closed and all crew non-recoverable, however, on August 17, 1951 a request for information and all available dental records were requested for my uncle, T/Sgt John R. McCullough. In addition, recent research has located information about Americans captured on Yap.



American Graves Registration Services-Board of Review-1 March 1948
(pdf file 354 KB)



Request for Sgt John R. McCullough Dental Records-17 August 1951
(pdf file 173 KB)



Non-recoverable Remains Reexamination of Records for Sgt John R. McCullough-5 September 1951
(pdf file 275 KB)



July 1945 document listing the missing in action over Yap Island since 15 July 1944
(pdf file 2.8 MB)



April 1947 document from the Western Carolines Sub Area to the Commander in Chief of the U.S. Pacific Fleet about the recovery of isolated burials on Yap.
(pdf file 723 KB)



Japanese Interviews about flyers lost over Yap
(pdf file 4.2 MB)



View Information about Yap Island During World War II


Submit comments about this site
Follow the Missing Air Crew Project On:


PIN IT
Web Site Terms of Use: This web site authorizes you to view materials solely for your personal, non-commercial use. You may not sell or modify the material or reproduce, display, distribute, or otherwise use the material in any way for any public or commercial purpose without the written permission of the web site owner. pat@missingaircrew.com