You are here: Home | Coleman Crew | Other Coleman Crew Memnbers | Sgt. Lawrence Rein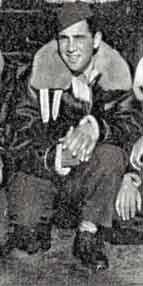 Sgt. Lawrence Rein pictured in the lower row of the crew picture taken in November 1943 fourth person from the right.
Original Member of the Coleman Crew
Sgt. Lawrence Rein was an original member of the Coleman crew when it was assembled in November 1943. We know SSgt. Lawrence Rein remained with the Coleman crew when they departed Hamilton Field, CA to their assignment with the 307th Bomb Group at Carney Field Guadalcanal as replacement crews to join the 307th Bomb Group due to the following document.
Sgt. Lawrence Rein left the crew sometime between the time the crew arrived with the 307th Bomb Group in February 1944 and the loss of the crew in June 1944. We do not know the exact date that he left the crew but I now know from speaking with Lawrence in March 2008 that he became ill and was replaced. I have located the 372nd BS crew load lists for the month of June 1944. Sgt. Lawrence Rein is not listed as a member of the Coleman crew for any of the June 1944 missions therefore, he left the crew prior to June 1944.
With the help of Jim McCabe I was able to locate and speak with Sgt. Lawrence Rein in march 2008. Lawrence was an original member of the Coleman crew and remembers many of the crew members. He became ill in the Pacific and was replaced on the Coleman crew. He remembers getting out of the hospital and hearing the news that the entire Coleman crew was lost on a mission to Yap. I'm in the process of sending Lawrence some documents and pictures to see if he can recall other events, however, here are a few memories he shared last week:
Lawrence was in the hospital and ill when the Coleman crew was shot down. A doctor have given him the wrong pills and made him even sicker. When he woke up and started to recover enough to leave the hospital he was told about the loss of the Coleman crew.
He remembers the Navigator, Martin Unger, well because they were both from NYC. He recalls taking to Martin but said many of the other officers including Lt. Coleman did not speak much with the enlisted men.
Lawrence was a gunner and engineer. He often worked the side window guns.
He was reassigned to a crew on another island (New Caledonia) that towed targets behind a B-24 for other crews to practice shooting. His new crew also flew inspector around the islands and other activities.
He remembers Lt. Coleman as a Texas man that did not really care for east coaster such as him and Lt. Unger from NYC. He said that Lt. Coleman tended to keep to himself and the officers and enlisted men did not associate much at all.
Lawrence remembers the crew picture taken in November 1944 and said it was very cold that day. He remembers Sgt. Gilbert holding the dog and said he was of American Indian decent.
He said the crew left the states in a B-24 and flew to HI and then onto other bases prior to joining the 307th BG.
He remembers the co-pilot John E., Jr. Jurica as a big guy and very nice.
Said Robert Wagoner Engineer was a good guy and knew his business.
Does not remember James R., Jr. Lykens or my uncle John R. McCullough
Said that James R. Hurd (Radio Operator) was a damn nice guy who was tall and think. He went out drinking with James and was a close friend.
Said a lot of men got sick in the Pacific and often ended up in the hospital.
He remembers being attacked by wild hogs on Guadalcanal while out in the jungle.
"REGARDING OUR TRAINEE WE WERE STATIONED IN CLOVIS,NEW MEXICO AND IT SEEMED WE WERE ALWAYS ON TRAINING MISSIONS WE HAD SIMULATED BOMBING RUNS OVER COLORADO AND OTHER PARTS OF THE SOUTH WEST,WE HAD ROUGH WEATHER DURING THAT PERIOD BUT WE STILL FLEW,I AM SURE THE UNGER FAMILY RECEIVED MAIL FROM MARTIN REGARDING THE TRAINING.COLEMAN WAS A HARD TASKMASTER AND DIDN'T PROMOTE FRIENDSHIPS.,I DON'T REMEMBER JOHN AS WE DIDN'T HAVE ANY REPLACEMENTS AS FAR AS I CAN REMEMBER,IWISH I COULD HELP AND I WILL TRY MY BEST TO RECALL ANYTHING THAT WILL HELP."
I'm looking forward to receiving more information and some pictures from Lawrence.
It is amazing that we keep finding more information and people such as Lawrence over 60 years after the Coleman crew was lost. I can't imagine what we could have located right after the war since a lot of the information and memories have been lost. Lawrence lost a lot of his pictures and documents in a house fire 25 years ago.
Submit comments about this site
Follow the Missing Air Crew Project On:


PIN IT
Web Site Terms of Use: This web site authorizes you to view materials solely for your personal, non-commercial use. You may not sell or modify the material or reproduce, display, distribute, or otherwise use the material in any way for any public or commercial purpose without the written permission of the web site owner. pat@missingaircrew.com