You are here: Home | Coleman Crew | Other Coleman Crew Memnbers | Co-pilot 2nd Lt. David Grimwood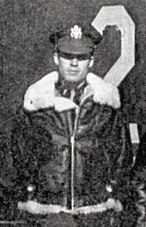 Co-pilot 2nd Lt. David Grimwood pictured in the upper row of the crew picture taken in November 1943 second person from the left.
Original Member of the Coleman Crew
Co-pilot 2nd Lt. David Grimwood was an original member of the Coleman crew when it was assembled in November 1943. We know that 2nd Lt. David Grimwood left the Coleman crew before they departed Hamilton Field, CA to their assignment with the 307th Bomb Group at Carney Field Guadalcanal as replacement crews to join the 307th Bomb Group due to the following document and the information shared below by the 54th Bombardment Group Assocation and the Grimwood family.
David Grimwood ended up as a pilot within the 738th Squadron of the 454th Bombardment Group H) of the 15th Air Force, stationed, with the 455th BG, at San Giovanni Air Field near Cerignola, Italy. David Grimwood was on orders to the 454th on 18 April 1944 and his complete crew was shipped back to the U.S. as of 8 July 1944 on TDY. David passed away in 2001. Thank you to Joseph F Chalker, Historian 454th Bombardment Group Assoc., Inc. (disbanded) for sharing this information.
With the help of Jim McCabe I was able to locate the family of Co-pilot 2nd Lt. David Grimwood in March 2008. The family shared the following relevant passage from his memoirs.
Passage from David Grimwood Memoirs:
We practiced a lot of high-altitude formation flying, emergency procedures, and exercises that helped all crew members to become familar with the performance of themselves and their equipment.

This crew picture (same as we have received from other sources) was located by the family of 2nd. Lt. Coleman and sent to me in March 2008. It includes a few names that I have never heard before from the back row of officers. The new names included co-pilot 2nd Lt. David Grimwood and bombardier 2nd Lt. Marion Sebastian. Since the names were written on the back of the picture by 2nd. Lt. Coleman we can only assume that both Grimwood and Sebastian were members of the Coleman crew in November 1943 when it was originally put together. However, both were replaced (by co-pilot 2nd Lt. John E. Jurcia, Jr. and bombardier 2nd. Lt. James F. Lind) by the time the crew shipped out to the Pacific in February 1944.

The crew with which I was assigned was as follows:

2nd Lt Gerald D Coleman, Pilot
2nd Lt David N. Grimwood, Co-Pilot
2nd Lt Martin B. Unger, Navigator
2nd Lt Marion T. Sebastin, Bombardier
Sgt Robert P. Wagoner, Engineer-gunner
Sgt James R. Hurd, Radio Operator-gunner
Sgt James R. Lykens, Aerial Gunner
Sgt Lawrence (NMI) Rein, Aerial Gunner
Sgt Gilbert C. Romero, Aerial Gunner
Sgt Fred R. Santarcangelo, Aerial Gunner


I flew with this crew for only a month, but placing their names here is like seeing names on the Vietnam Memorial must be to veterans of that war. I was the only one listed above who survived the war. I was removed as co-pilot; someone replaced me; and the crew was later ordered to the Pacific Theatre of Operations. I was to learn later that they were all killed in action. Their plane had taken a direct hit while on a combat mission, and had exploded in mid-air over water. There were no survivors.

Pat Note: Sebastin, Rein, Romero and Santarcangelo were replaced on the Coleman crew for various reasons and all survived the war.

Lieutenant Coleman was a good pilot, but he had not been trained to fly B-24s. He had gone through B-17 Transition School instead. I found myself as co-pilot in effect instructing my pilot, who was the Plane Commander.

When one of the regular instructor-pilots was flying with us one day, he started asking questions, and when he checked my record, he decided that a mistake had been made in assigning me to a co-pilot position. He started the wheels turning that resulted in my being taken off the crew and transferred.

We were on a high-altitude practice formation exercise when a message came over the radio: "Message for Lieutenant David N. Grimwood. You are to come in for a landing, and are to report to the Commandant's Office immediately upon landing."

I had no idea what I had done or what might have happened. When I reported as ordered, I was handed special orders dated 20 Dec 1943 and told that I was to report for duty at Biggs Field, El Paso, Texas, on or about 20 Dec 1943. That didn't give me much time. I was informed that the next train would leave for El Paso in just a few hours. I called Eleanor, told her to pack her bags, then I hurriedly cleared the post.
I'm looking forward to receiving more information and some pictures from the family of Co-pilot 2nd Lt. David Grimwood.
It is amazing that we keep finding more information regarding the Coleman crew (such as the informaton above about Co-pilot 2nd Lt. David Grimwood) 60+ years after the crew was lost. I can't imagine what we could have located right after the war since a lot of the information and memories have been lost.
Submit comments about this site
Follow the Missing Air Crew Project On:


PIN IT
Web Site Terms of Use: This web site authorizes you to view materials solely for your personal, non-commercial use. You may not sell or modify the material or reproduce, display, distribute, or otherwise use the material in any way for any public or commercial purpose without the written permission of the web site owner. pat@missingaircrew.com