You are here: Home | 307th BG Index | Fred Carter Crew
Fred Carter Crew —Shot Down on 12 February 1944 over Rabaul
Information and pictures on this page have been reprinted with permission from MSgt. Rick Lawrence, USMC/USAFR.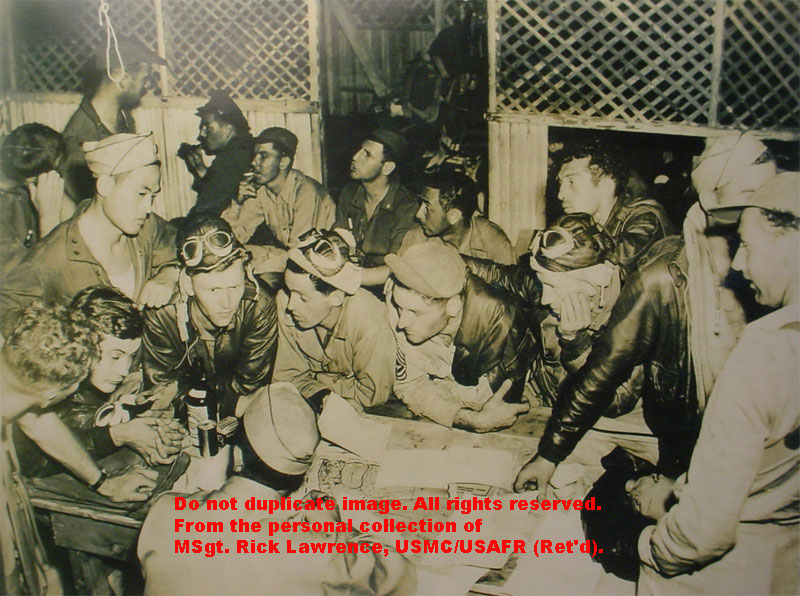 Debriefing at Guadalcanal. Grouped around table left to right. 1. Pilot J.J. Jacobs (excellent view of back of his head) 2. Bombardier Daniels (watching the empty bottle of scotch with droping, regretfull, eyes) 3. Navigator Q.L. Ligh (standing with arm on Duren's sholder) 4. Redio Operator Duren (looling eagerly at interogiter) 5. Cameraman Moor (also watching bottle of Scotch) 6. Engineer Crane (5 striper) 7. Rear-Gunner Basterache (chin in hand) 8. Asst. Radio Operator Bruey (directly in back of Basterache) 9. Asst. Engineer Roberson (face not visible hand on table) 10. Co-Pilot Cloyer (being seen and not heard, as any co-pilot should)
Excerpt about the Rice Crew shoot down from "The Long Rangers" by Sam Britt:
On the February 12th mission to Vunakanau, Rabual, Lt. Fred C. Carter, Jr's (372nd) plane was hot by A/A fire in the vicinity of the flight deck. The shell seemed to burst inside the ship and soon afterwards the plane fell out of formation and crashed. Two men were observed bailing out and were fired upon by enemy A/A. The plane piloted by Lt. Leslie J. Carson, Jr. (372nd) was hot five times. Lt, Mather's (372nd) plane received three hits; lt. Homer Faucett's (372nd) plane was hit twice and Lt. Mark J. Rifkin's (372nd) plane was hit by a piece from Carter's plane. (page 84)
MSgt. Rick Lawrence, USMC/USAFR Overview:
The Fred Carter crew on plane 42-72818 (MACR 2292) was shot down on 2/12/1944 over Rabaul. The original commander of this crew had been Captain John Penington. Captain Penington had flown the Wicked Wench to Guadalcanal via Midway and some of the crew in the below photo had made that first trip with him, but he can't remember which ones. Carter was his co-pilot and when Penington moved on to S-2, Carter took over the crew. The original bombardier, Lt. Harold Mote or Motes, shown in the crew photo also left the crew in January 1944, shortly after the photograph was taken. He rotated back to the States for another training course. Lt. Jack Daniel, who was already in the 307th but with a different crew, transferred to Carter's team that same month.
The plane was shot down by anti-aircraft fire. Witnesses from other aircraft saw the plane get hit and noted that the aircraft seemed to right itself after being briefly out of control but then started its downward plunge to the ground. It was reported that one, possibly two parachutes were seen but this was not confirmed. Neither the plane nor the crew was heard from again until 1948 when, at the request of the mother of Lt. Daniel, the Army Grave Registration Team began an investigation and eventually located the crash site. Over the next three days, the team processed the site and found the remains or partial remains of at least five different crewmen. The first one found was Sgt. Charlie Carter Plott's. His was ID'ed by his dog tags, which I know have. Next was found an ID bracelet for TSgt. Russell Picard and then a bracelet for Leon Roberson. Villagers in the area stated that two parachutes did land in the area of the crash and reported seeing one of the chutes suspended in a tree with a body connected to it. They did not stay in the area very long as the Jap's ran them off. They stated the Japs carried the body away. It is unknown what happened to the second chutist but we probably have a pretty good idea what occurred if he lived from his jump. Jack Roberson, the brother of Leon Roberson, told me that he was told it was his brother whose body was hanging from the trees and that the ID bracelet found was actually being worn by a native boy & given to the site investigators. Jack now has that bracelet. The natives also stated that four bodies were buried next to the plane after the crash but at some point an Australian sergeant and a civilian came through the area and exhumed the bodies & took them away. It is unknown at this point whose bodies they were or what happened to them. This would make a total of eleven (5 sets of partial remains, 2 chutist, and 4 graves) which would account for the entire crew, even though not all bodies were recovered by the team. The recovered remains were buried together at Jefferson Barracks National Cemetery, St. Louis, MO in 1950.
Click on an image below to enlarge:

This picture of "The Wicked Wench" was taken in January 1944. Back Row L to R - S/Sgt Russell J. Picard Ass't Radio Operator, Sgt. Charlie C. Plott Tail gunner, S/Sgt Edward J. Shahan Armorer/Gunner, T/Sgt Leo E. Fontaine Radio Operator, S/Sgt Aubrey Leon Roberson Ass't Engineer, T/Sgt Claude L. Locke Engineer.

Front Row L to R - 1stLt Harold E. Mote or Motes Bombardier (was not w/ the crew when it was shot down), 1st Lt. Frank B. Mitchell Navigator, 2nd Lt. Arthur E. Cole, Jr. Co-Pilot, 1stLt. Fred H. Carter, Jr. Pilot. All of these men except for Motes were KIA on 12 February 1944 when the plane was shot down over Rabaul.

Not pictured is 1stLt Jack Daniel who replaced Lt. Mote(s) shortly after this photo was taken. Also not pictured is 2nd Lt. William D. Baldwin who was a trained navigator but was on the mission only as an observer. I have a portrait photo of Lt. Daniel but nothing depicting Lt. Baldwin.




The only verified names of the men in these photographs are S/Sgt Aubrey Leon Roberson, back row 2nd from right, and Lt. Jack Daniel, bottom row, 2nd from right. I would also note that the last man on the back row appears to be the same man in pic # 3 wearing the flight helmet, goggles and jacket that the Indian crew member is leaning on. The others are unknown at this time and any assistance in identifying them would be appreicated.


Debriefing at Guadalcanal.

Lt. Daniel is pictured next to a Native American bent over the table w/ s drunk look on his face - which he wasn't. This photo was published in Life, Look or some other national magazine during the war. The Native American individual appears to be the same man in the tee-shirt crew photo and is in the bottom row far left.
Submit comments about this site
Follow the Missing Air Crew Project On:


PIN IT
Web Site Terms of Use: This web site authorizes you to view materials solely for your personal, non-commercial use. You may not sell or modify the material or reproduce, display, distribute, or otherwise use the material in any way for any public or commercial purpose without the written permission of the web site owner. pat@missingaircrew.com